Congratulations! Your child is beginning the rewarding process of researching and applying for colleges, and StandOut Admissions Network is designed to allow parents like you to sign up for your own "student support" account to collaborate and offer advice as they work on their profile and college applications.
In order to begin collaborating with your child, you need a StandOut Admissions Network account.
To create a new account, go to: https://www.standoutadmissions.com.
You are required to enter a minimum of your first name, last name, birth date, and email address before choosing a password.
You can only have one StandOut Admissions Network account associated with an email address. Do not sign up for an account using a shared address.
Birth date is required because StandOut Admissions Network is only for students over the age of 13 years and is based on regulations from COPPA (Children's Online Privacy Protection Agency).
After entering information, a confirmation email is sent to the address you specified. Follow the link in that email to complete the account creation. The first time you log in, you're asked a few initial questions to complete the account creation.
Specify that you are a Support User (not a student).

Specify that you're a parent or guardian.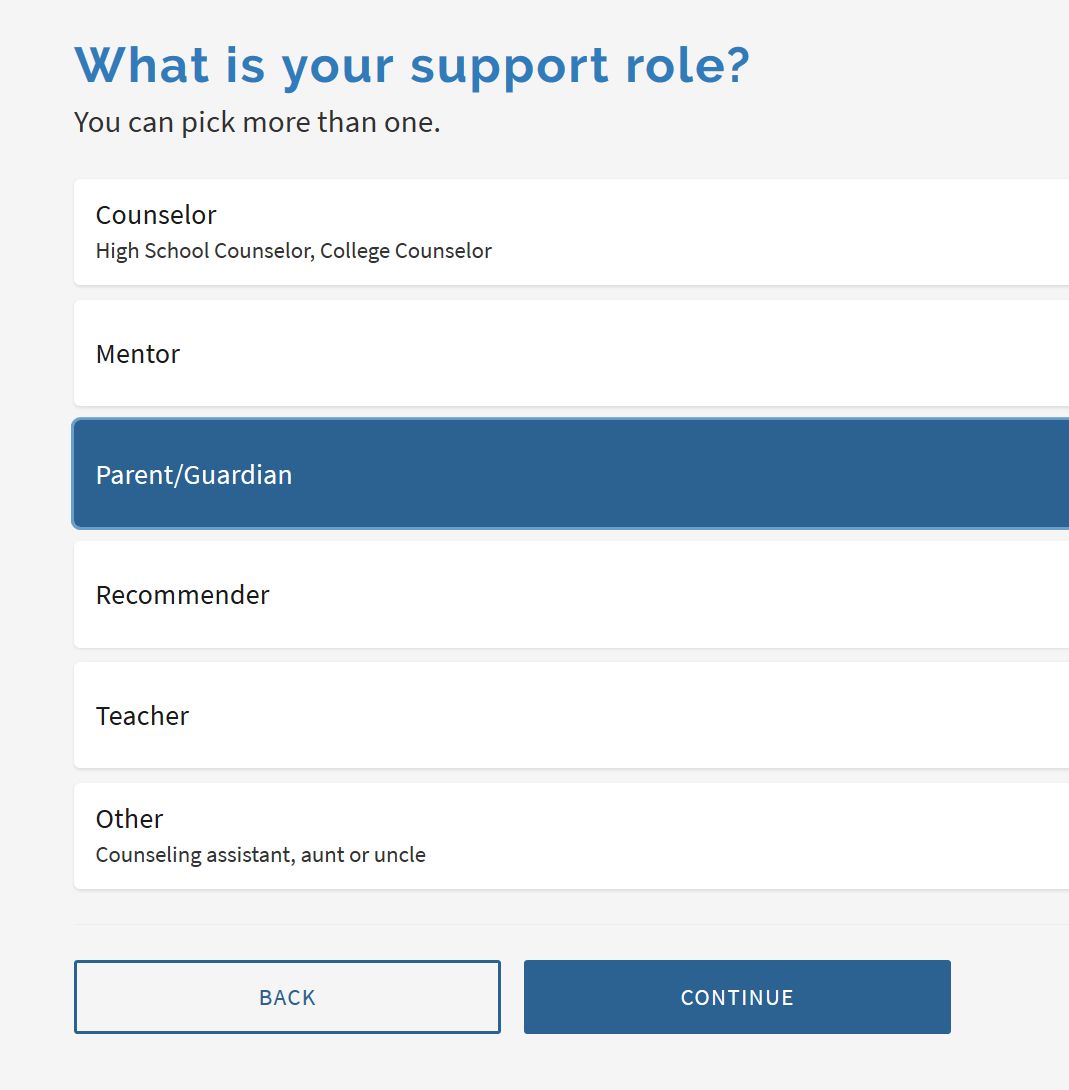 Once you have an account, you can:
Add your child as a contact (or they can add you!).
Ask your child to share their College List (that's where they research colleges and save the ones they're interested in).
Review your child's shared college list and the status of any in-progress applications.
Read and comment on any documents your child has shared with you (such as essay drafts or schoolwork they've saved in their locker).
Complete any recommendations or document requests, if your child has requested them from you.
If your child is home-schooled, you can upload required grade reports and transcripts.
When you're logged in, you can also access additional help articles for support users (such as parents).