Some colleges don't require that you fill out in progress college coursework on the StandOut Admissions Network site. The Required Profile Sections article provides information on how to tell which colleges on your list require this section.
This section of your Profile lets you report your academic work for any college-level courses that you are currently taking. This is a different section than Completed College Coursework, to learn about entering your already completed college coursework, see our help desk article here.
If you've received a final grade for a course, enter it in Completed College Coursework instead.
Any dual credit coursework for which you receive college credit should be entered only in your high school coursework for the appropriate grade, not either College Coursework section. To learn more about dual credit coursework, see our help desk article here.
How to use the In Progress College Coursework section
Use the College Information section first to add to your profile the college(s) where you took the course(s), if you're currently enrolled, how many credits you've earned to date, and the total number of college credits that you've earned at all of the colleges you've attended.
Once that section is completed, the system will determine if you need to fill out In Progress College Coursework dependent on your answers and the requirements from your Schools.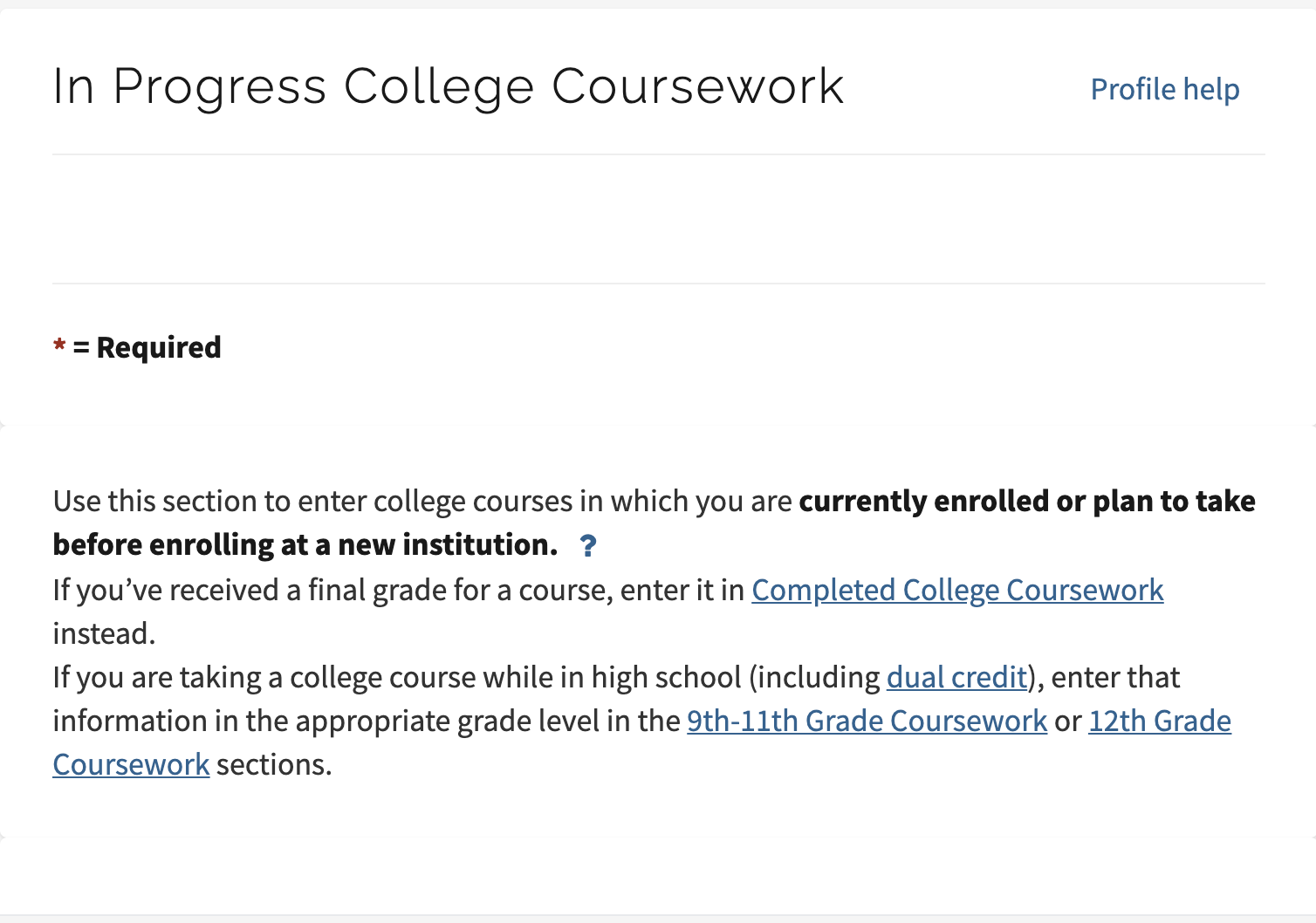 If the In Progress College Coursework section is required, following along on your Profile will take you there from College Information. You may also navigate there using the side bar, it will appear after College Information on your My Profile menu.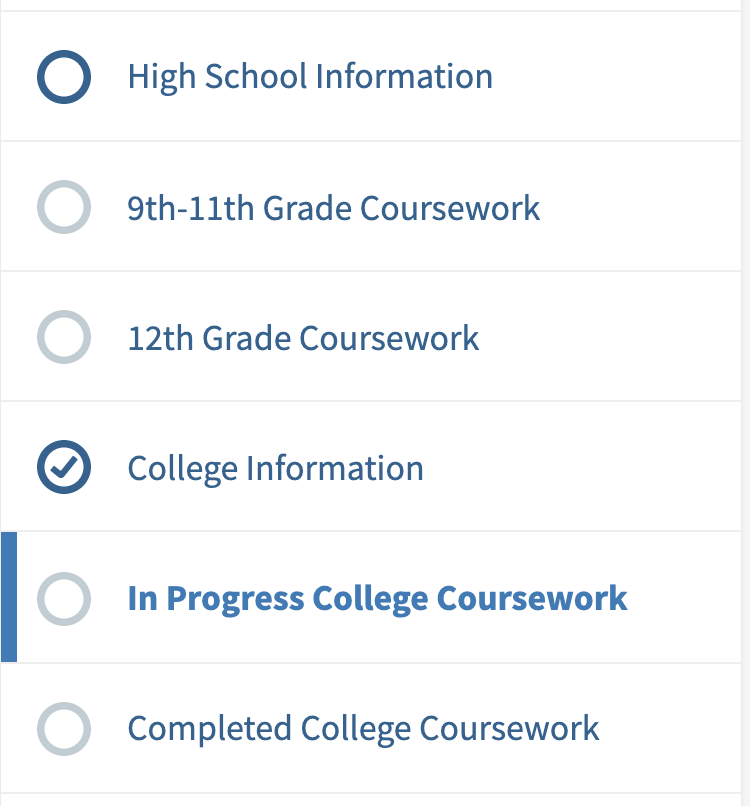 If the section is not required, you will move on to the next required section, and In Progress College Coursework will appear in the Optional Sections part of the menu at the bottom.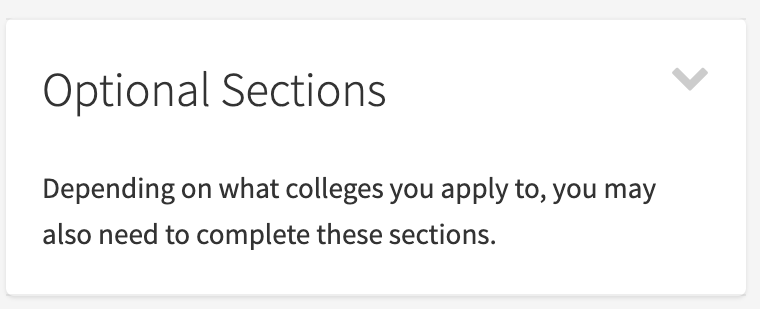 Adding courses
Using your attendance dates from the College Information section, In Progress College Coursework will show you which colleges need coursework added.
Click the "Add Courses" button to be guided through the necessary information needed:
Choose the schedule system for the college (e.g. semester or quarter).
Choose the academic year from the drop-down list. (2025, for example, stands for AY 2024-25.)
Choose the term in which you took the college course.
Enter the

subject

/

rubric

/

prefix

for the course (e.g. Mathematics/MTH or Chemistry/CHEM).
Enter the course name. This entry should match what's printed in the college's course catalog.
Enter the course number. This entry corresponds to the course's number in the college's course catalog as well.
Enter the number of credits you earned or credit hours.
Answer whether you are currently taking this course or plan to take this course.
If you need to add another course for this college, click "Save & Add Another Course"
If you are done adding courses for this college, click "Save Course & Close"
Editing or Deleting existing courses
You can add more courses in this section or edit the ones you've already added. To edit a course, click the down arrow to display the course detail and then click EDIT. To delete a course outright, click DELETE next to edit.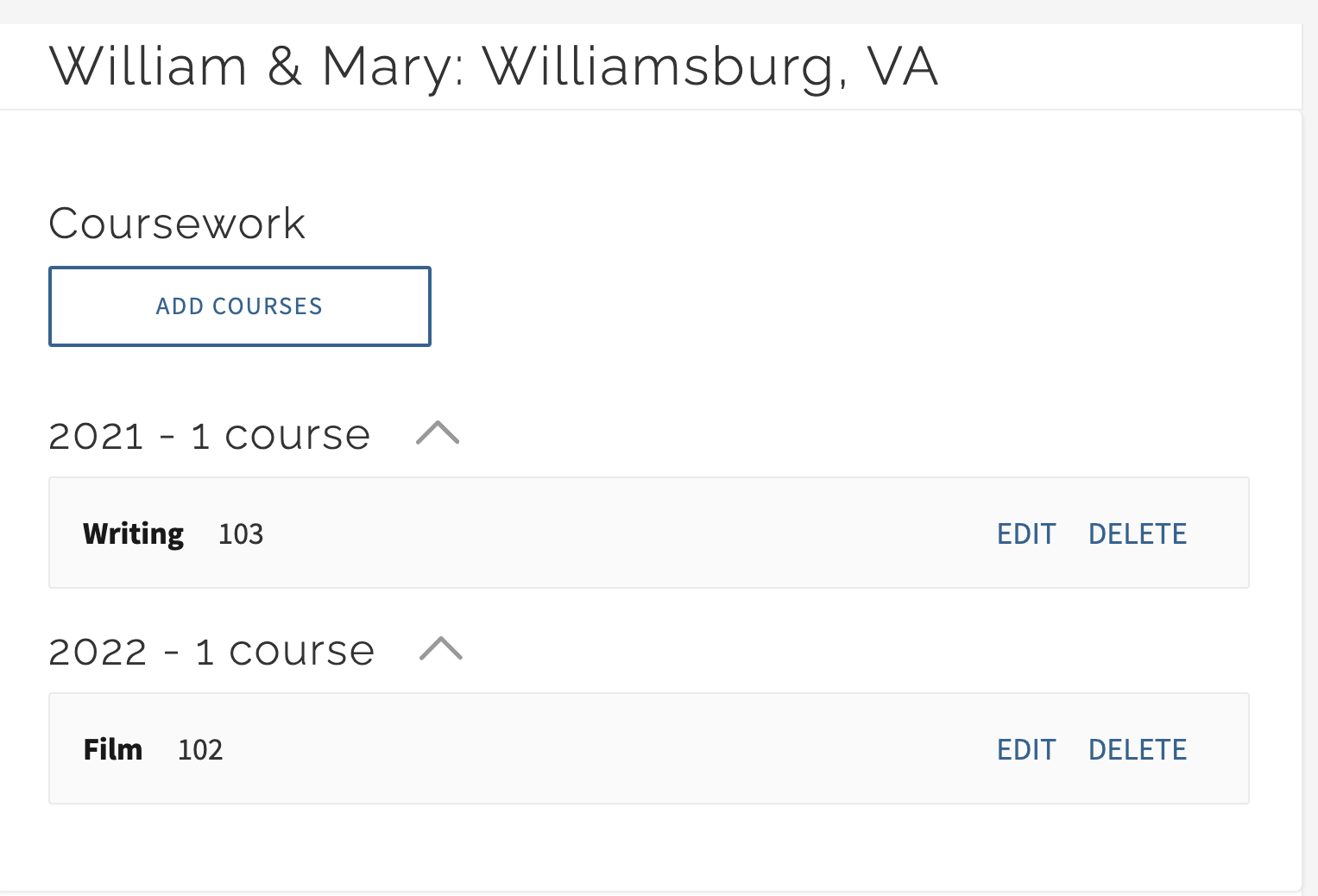 Adding another course
We've made it easy to add multiple courses to a college. When you finish adding the important information from one course, click the "Save & Add Another Course" button (

) to add another course.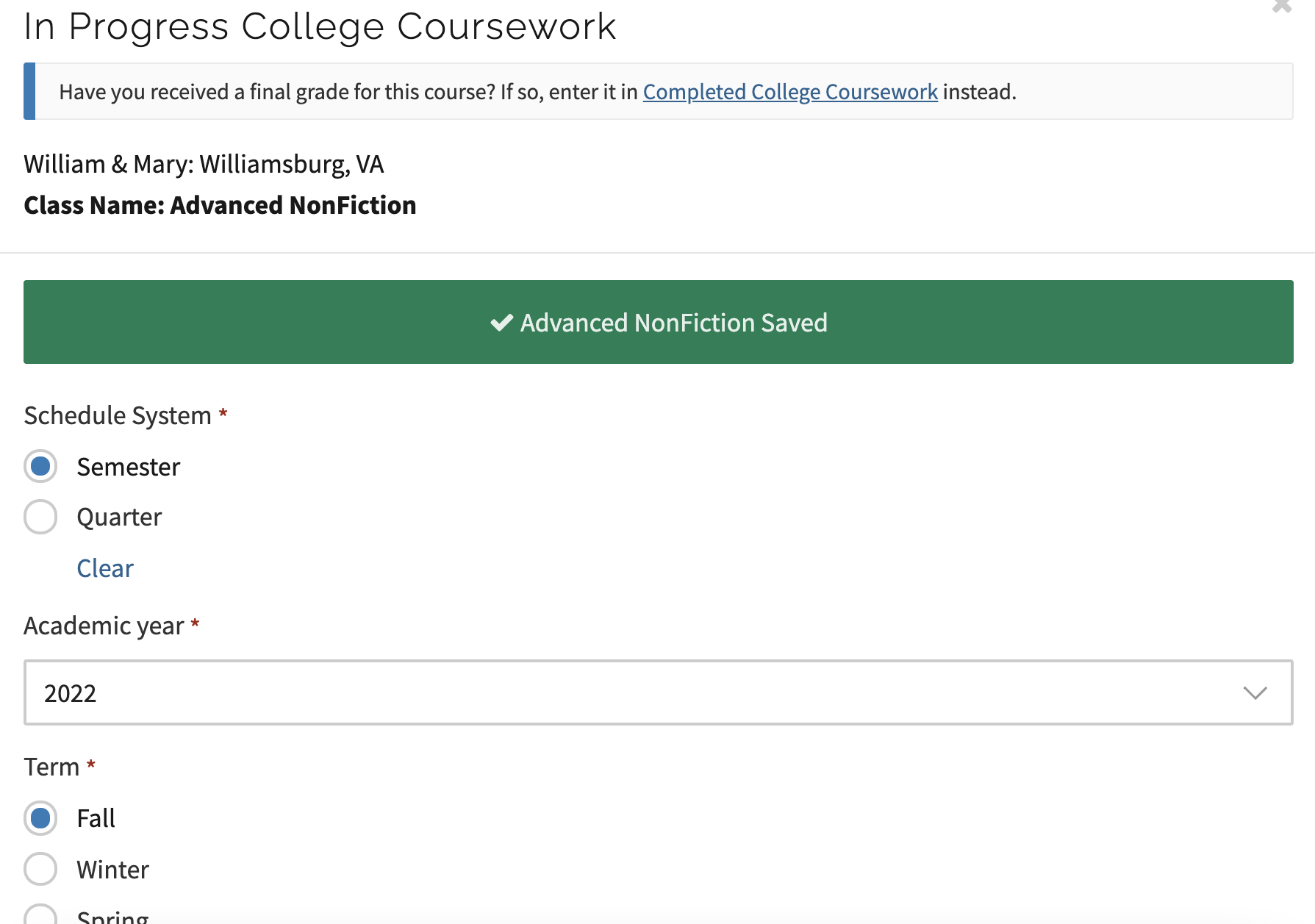 A green bar with a message will show you your last class saved, and your schedule system, academic year, and term information will all be saved. The individual course section will be cleared for you to fill out.
When you've added all the college coursework in which you're currently enrolled or plant to take for this school, click "I'm finished adding all the college courses in which I'm currently enrolled or plan to take before enrolling at a new institution."" at the bottom of the section and confirm that this profile section is complete.
You can return to edit this profile section at any point until you begin submitting your applications.