To begin an application:
1. Add a college you're interested in your list. Colleges on your list are shown below the search area. This article provides additional instruction about adding colleges to your list.
2. If the college is a StandOut Admissions Network member, and is currently accepting applications, click or tap the Start Application (

) button.

3. Specify what type of applicant you are, and click or tap Continue. If you're not sure which type of applicant you are, click or tap the "View Requirements" link to learn more.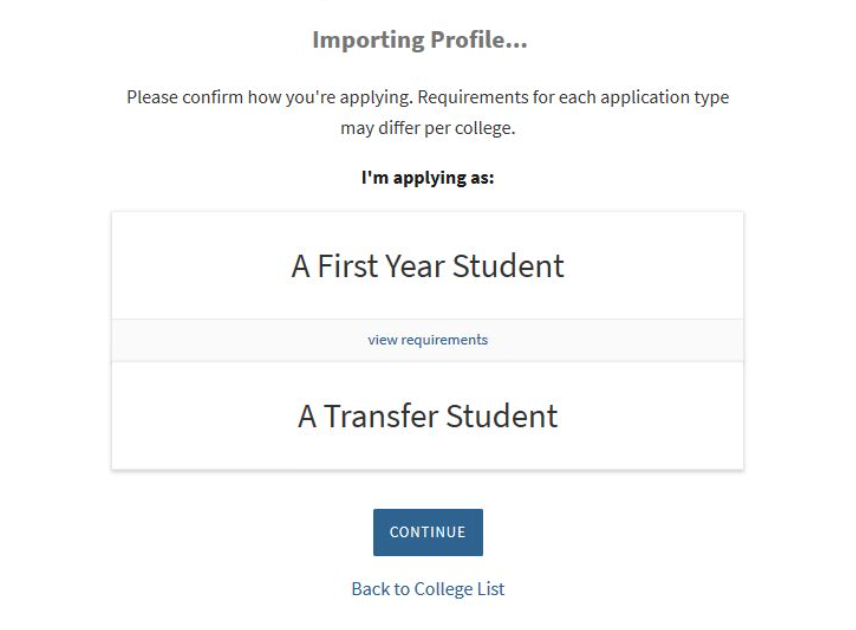 4. Select Start Application (

). This is only available if the college has open terms.
If you have profile sections that need to be completed, click or tap the name of a Profile section to go directly to it.
5. Follow all the links to the various application parts to complete the college's application. These steps vary depending on what the college wants to ask applicants, and what type of applicant you are (for example, a first year or a transfer).
In many cases, you must compete one part of the application before another part becomes available. For example, you may need to select your program and term before you can see what recommendations and essays are required.
If you want to apply for Early Decision, be sure to specify that early in your process when selecting a term, since it requires printing a paper form and getting signatures on it.