If your contact has not received or cannot find your document request email, you may need to contact them outside of StandOut Admissions Network. To ensure you provide the right information, you can copy and paste instructions easily from your Locker or your Official Documents page of your applications.
How to copy the correct information for your contact
1. Go to your Locker or application Official Documents
2. Select the "Cannot find my request" link in the card for that official document.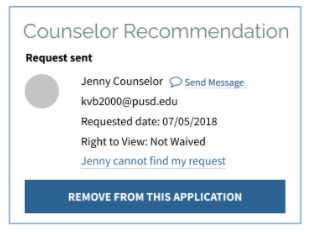 3. This link opens a pop-up with instructions you can copy to send to your contact. Click "Copy Instructions" to copy the instructions to your clipboard.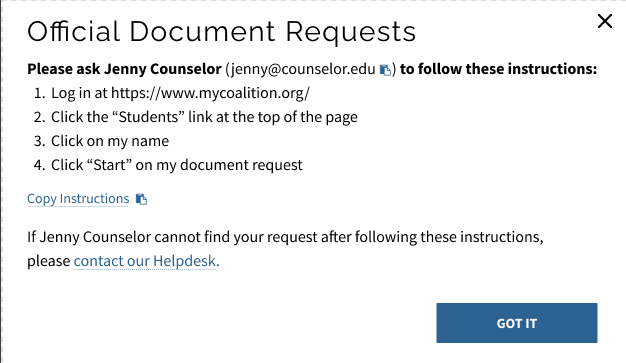 You can also copy the contact's email using the icon in parenthesis to the right of the email to paste in your personal email. To confirm these are on your clipboard, a message saying "copied" appears to let you know.
The instructions differ depending on whether the contact currently has a StandOut Admissions Network account, instructing them to login to StandOut Admissions Network and start the request. If the contact does not have a StandOut Admissions Network account, the instructions inform your contact to create a StandOut Admissions Network account and then start the request.