You request your recommendations in the Official Documents part of your locker, and by the time you are applying to colleges, you should have already contacted several recommenders (for example, school counselors and teachers) and asked them to submit recommendations on your behalf.
You can manage letters from recommenders in your locker, before you even begin any college applications. You can then choose which of your recommendations to submit with an application on its Documents page.

Once you have requested letters from recommenders, you can decide which ones to submit as part of a college application on the Documents page of the application.
To specify your recommenders:
1. Begin a college application. On the Overview page, select Go to Official Documents.

2. You have the option of either attaching documents via the StandOut Admissions Network site, or sending items to colleges separately (for example, if your high school counselors and others have told you they prefer to submit electronically or via US Mail). In all cases, you must affirm that you understand that it's your responsibility to make sure all required documents are received by the college. Select the checkbox for "I have read and agree to the above"

3. Under Official Documents, the college lists how many Counselor, Academic, and General recommendations they require, and also how many additional ones youmay attach optionally. Click or tap the Add button for that recommendation type (such as Add Academic Recommendation).

4. Click or tap the names of the recommenders you want to associate with this application. Remember, you must select it here (within a college application) to add it to an application even after adding a new recommender on your Locker/Official Documents page!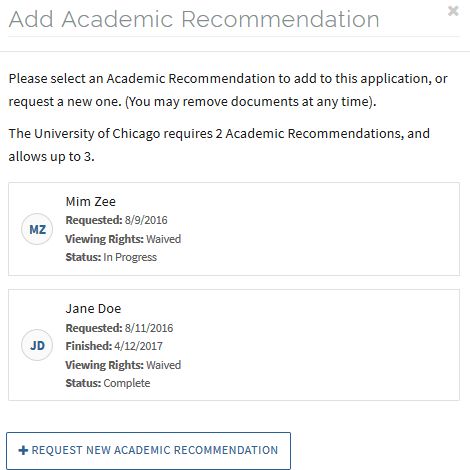 5. If you don't want to use one of the existing recommendations, click or tap "Request New..." and enter an email address and name and click Continue. Any new recommenders will be saved in your locker for use in a future application.
6. Once you have selected the recommenders you want to submit with this application, click or tap Continue.