1. Select Colleges from the top navigation.
2. Make sure the college you want to share information with is on your College List. If it's not, use the College Search to find the college and add it to your list.
3. Select Add to list (

). Once you list a StandOut Admissions Network college as one you're interested in, it appears below in your list of colleges.
4.Check the box for "I want to start sharing my contact information..." for the college to opt in and share your basic profile data with the college.

5. Checking this automatically opens the "Share your information" dialog, with a list of which profile fields will be shared with the college. Select"Yes, I would like to share" to allow sharing.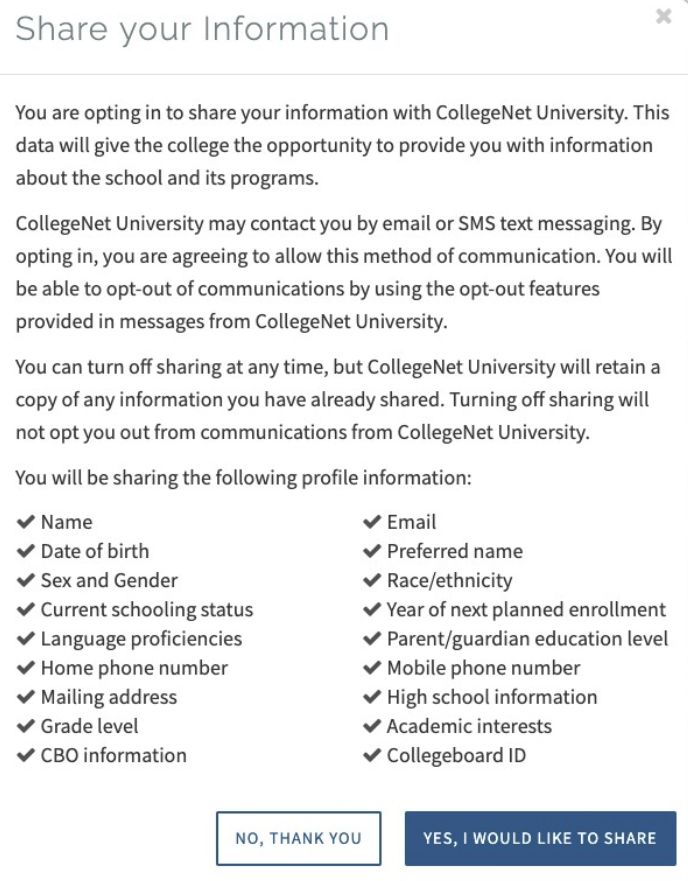 6. This will allow the college to download your shared data, and use it as a way to assist you and provide additional information about the college and its application process. Remember, different colleges may or may not use this information, may or may not contact you, and so on. The application process varies from college to college, so when you choose to share your data, that may result in a variety of communications from different colleges.
To remove sharing
If you decide you'd no longer like to share profile information with a college, uncheck the "I want to start sharing my contact information..." box.
Note that changing this to No after a college has already received data won't affect your profile data already received by the college.