Your inbox is where you send and receive messages from your contacts within the StandOut Admissions Network system. To access your Inbox, select Home > Inbox from the navigation menu.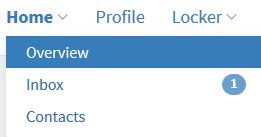 When viewing your inbox, you can choose to archive one or more messages, which removes them from the active Inbox view.
At any time, you can toggle between viewing the active messages in your inbox,. or viewing the messages you chose to archive. Select Active or Archive to adjust your view.